---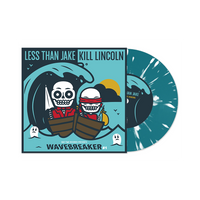 How exactly do I describe what it feels like to do a split with one of my all time favorite bands? I have no idea where to begin. Less Than Jake was and is a gateway to ska for so many people, myself included. From warped tours, to countless club shows, to the sound of "losing streak" blasting out of my CD player headphones in the backseat of my parent's car, I've grown up watching this band master what ska punk is and can be. They've set a mold that so many have fitted, bent, and broken... but their sound, ethos and energy is unparalleled in their generation of ska or any other.
So, to put it simply, when JR approached me about doing a split... I was stoked.
"Hey... does Kill Lincoln want to do a split with us on Bad Time"? I don't think I could have said "hell f*cking yes" faster. After floating for a bit, I thought about it some more... what if more bands could get a piece of this feeling? What if all the bands on Bad Time could meet up with their heroes, and not just to pay well earned respects, but to collaborate and create something new, together? It dawned on us that this could be the start of something important, a way to cross generational barriers and link our scene together in a new way. Thus the idea of WAVEBREAKER was born; a 7" series matching bands of different generations with a mutual respect and willingness to collaborate. Forget the idea of waves, classifications, and barriers... we're burning that bridge and building a new one.
Kill Lincoln gets compared to Less Than Jake a lot... and honestly, that couldn't make me happier. They've proven that ska punk can be fun, whacky, weird, fast, and irreverent... but that it can also at the very same time tackle serious issues, mental health, life choices, depression. You can sing about how burnt out you are while an on-stage mascot shoots toilet paper at your face. It's all there to take however you will, and it's OK to just have some fun with it too. And while we've purposefully taken a lot of detours and pain-stakingly carved out our own ditch on the side of the road, I'm proud that we've wound up right here on the same spot in this very strange time. I hope you enjoy the tracks on 'Wavebreaker #1", and I also hope you look forward to what this type of collaboration might mean for the future of ska punk.
- Mike Sosinski
"Need Some Shaking"
Produced by Roger Lima and Less Than Jake (mostly) at the Moathouse in Gainesville
Mixed and Mastered by Eric Taft at Buzzlounge
"Going Under"
Recorded (mostly) at 38 North in Falls Church VA and District Recording in San Jose CA
Mixed by Reade Wolcott at Splendor 2 and Mastered by Dan Coutant at Sun Room Audio